The Cabin Boy's Story
UNDERTOWdk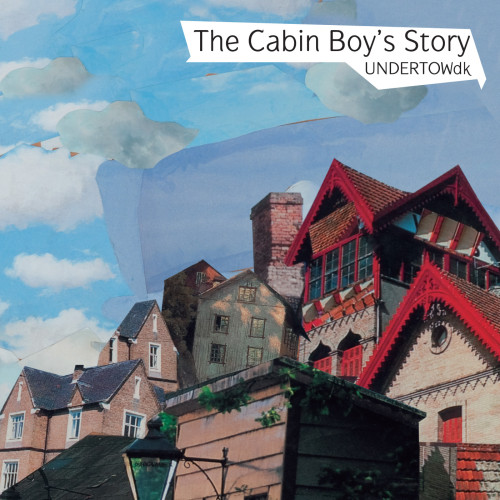 UNDERTOWdk is:
Svend Eeg – Drums
Ib Andy Wulff – Guitar
Søren Mortensen – Bass & mix

Johannes Grønager – Altsax & keyboards

© 2010 Produced, recorded,

composed & mixed by Undertow

Artwork:

H. M. Queen Margrethe II of Denmark
UNDERTOW: "The Cabin Boy's Story"
On the 3rd of September 2004, during Festival Week in Århus, Svalegangens Toy Theatre premiered "The Cabin Boy's Story", a show based on Tania Blixen's (Isak Dinesen) short story of the same name.

The sets and characters were drawn by Her Majesty Queen Margrethe II of Denmark.
The music was written and performed by Undertow.

Undertow is a band, which creates music based on collective improvisation.
When they play, nothing is agreed on beforehand. The musicians create the music collectively in the moment, intuitively open to each other's musical creativity; each contributes to the overall sound. This produces varied and different results. From lyrical themes, atmospheric sound passages, which slowly develop and change, to exciting percussive sequences.

The music to "The Cabin Boy's Story" is a series of improvisations, based on the atmosphere of Tania Blixen's short story and on H. M. Queen Margrethe's beautiful pictures.
Find os på Spotify.com:
eller
Find os på Yousee.dk:
UNDERTOWdk COVER NOTES
My first impression of Undertow's music was of Rock with improvisational elements, where one could expect certain things such as chord changes, to be agreed upon beforehand. They informed me that this was not the case.
Nothing was agreed upon. The funny thing was that they could nonetheless, get the style so right and with such fearlessness and precision in the Rock idiom – measured and unfailing. Obviously something spontaneous happens as they play – creating a magical chemistry.
How come one doesn't have free Rock in the same way as one has free Jazz?
The long improvisations, which were prevalent in the 60's, are surely a part of Rock history. Some were doubtless inspired by the Indian music of the times. Undertow's music is, however, different. They work with contrasts. The bass guitar suddenly stops - to take up later in another tempo. Bass and backing riffs tend to change and of course, Undertow also works with transitions. A combination may fade away to make space for a mysterious cluster sound. A riff may later be taken up to become a full-blown melody. Bass-line, melody and other tones interweave to create labyrinthine fictional harmonies and mirages of magnificent chord sequences.
The length of a Rock song was once upon a time determined by the record industry – probably based on what could be fitted onto a single. When it comes to Undertow however, Rock takes a day off from this and many more of its norms and yet is still fully present and very much alive in the music of this wonderful group of musicians.
Carl Bergstrøm-Nielsen
Translated from Danish by John Buckley McQuaid